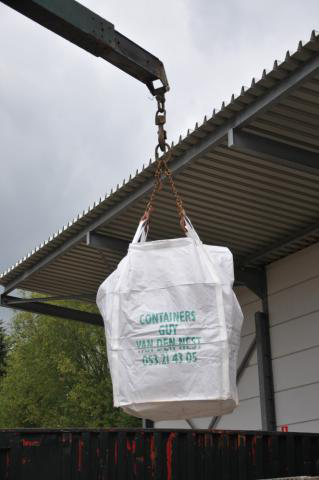 DE BOUWAFVALZAK, DE IDEALE TUSSENOPLOSSING
In sommige gevallen is een container te groot, maar u moet toch ergens uw afval of uw puin kwijt. Daarvoor kan u bij Guy Van Den Nest terecht voor bouwafvalzakken. De bouwafvalzak is een ideaal alternatief voor de container.
1500 KG AFVAL IN ÉÉN ZAK
Een bouwafvalzak heeft een capaciteit van 1 kubieke meter en bestaat uit heel sterk materiaal. U kan er tot 1500 kg in kwijt.
FLEXIBELE SERVICE
Omdat wij onze flexibele service in alles wat we doen willen doortrekken, kan u uw bouwafvalzak bij ons komen afhalen, of wij brengen deze tot bij u. Net zoals onze containers, kan u uw afvalzak vullen op eigen tempo. Als de zak dan gevuld is, geeft u ons een belletje en komen we deze ophalen. We halen de zak op in de regio Aalst-Dendermonde-Ninove.